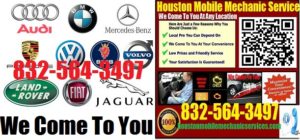 Best Houston Mobile European German Mechanic Auto car Repair service technician shop near me for Foreign Import Pre Purchase vehicle inspection PPI review in your area. We can come or travel to you at home, at your job, at your office business or any local parking lot to fix your vehicle. Give us a call at 832-564-3497 for faster service at affordable price.
We specialize on helping people whose looking for mobile European or German car repair mechanic service surround Houston, TX area at affordable price like:  Mercedes, BMW, Mini Cooper, Porsche, Jaguar, Land Rover, Audi, Volvo, Volkswagen and Saab include pre purchase Vehicle buying inspection review near you.
Keeping your imported car tuned-up and roadworthy can prove challenging in the Houston area unless you hire a Houston mobile foreign auto repair mechanic. Unfortunately, European and Asian car imports have different specifications and tolerances than domestic automobiles. Our services include roadside assistance, repairs, tune-ups, maintenance, alignment, parts replacements and diagnostic services. Our team of mechanics enjoys factory training, import expertise and access to diagnostic equipment that's specifically made for imported vehicles.
Import Landscape Includes Many Top Brands
If you have an accident or breakdown involving your imported car—cars like BMW, Jaguar, Infiniti, Porsche, Lexus, Mercedes-Benz and many others—a domestic mechanic might be in over his or her head. That's why it's critical to choose an imports car repair technician Houston. Our mechanics have the tools, equipment and skills to repair your vehicle to factory standards, satisfy insurance requirements and ensure certified repairs for the safety of you and your family. Regular repair and maintenance from a certified technician give you peace of mind sell my house fast Houston, whether you drive a luxury import or bargain-priced imported vehicle such as a Kia or Saab.
Pre Purchase Foreign Vehicle Inspection Houston
We also provide regular maintenance  services, oil changes, tune-ups and pre purchase foreign vehicle inspection Houston service so that you don't get stuck with a lemon or vehicle that doesn't meet U.S. standards. We provide the services and repairs that keep all imported vehicles safe and performing at their peak levels.
ASE Certified Imported and Foreign Vehicle Services
No matter what repairs or services you need for your imported car, we can handle the job promptly and efficiently. Our services include supplying hard-to-find imported parts, tire service, brake work, engine repair, transmission service, engine diagnostics, rear-end and front-end services and electronics services and repairs. Call or contact us today for a pre purchase foreign vehicle inspection Houston, diagnostic service, repair job or routine maintenance work for Corporate airplane rental cost Houston, TX.
Onsite Computer Scanner or Experience Diagnostic Repair Service Average Cost for Parts Change or Replacement by Automotive Tech
| | | | |
| --- | --- | --- | --- |
| * service or Check engine Light | * Test the battery Replacement | * Power Window motor Regulator switch Replacement | * Fuel pump & pressure regulator replacement |
| * Disc and drum brake rotors & booster Replacement | * Spark plugs, wires, ignition coil replacement | * Brake master cylinder replacement | * Power Steering pump & hose replacement |
| * Overheating Radiator flushes & replacement | * Alternator & Starter Solenoid replacement | * Oxygen sensor replacement | * Water pump replacement |
| * Engine Belt replacement | * Upper and lower Ball-joint replacement | * Thermostat and radiator hose replacement | * Mass airflow sensor replacement |
| * Belt tensioner and pulley replacement | * Shock/strut spring replacement | * Lower and Upper control arm replacement | * Coolant temperature sensor replacement |
| * Tie rod end replacement | * Stabilizer bar replacement | * Motor mount and transmission mount replacement | * Fuel injector replacement |
| * Distributor cap and rotor replacement | * Replace wheel cylinder | * Replace charcoal canister | * Replace engine fan assembly or engine fan motor |
| * Replace CV Axles | * Replace Ignition switch | * Replace windsheild washer pump | * Wheel hub assembly or wheel bearing replacement |
| * EGR valve Replacement | * Fuel tank & rail replacement | * PCV valve Replacement | Many More other repairs |
Houston, Bellaire, Galena Park, Missouri City, Alief, Stafford, South Houston, Pasadena, North Houston, Pearland, Sugar Land, Fresno, Humble, Manvel, Barker, Channelview, Deer Park, Katy, Friendswood, Thompsons, Cypress, Spring, Rosharon, Webster, Highlands, Richmond, La Porte, Crosby, Alvin, Seabrook, League City, Tomball, Baytown, Kemah, Porter, Rosenberg, Hufsmith, Huffman, Dickinson, Santa Fe, Bacliff, Pinehurst, Hockley, Needville, Texas City, Magnolia, La Marque, Hitchcock, 77001, 77002, 77003, 77004, 77005, 77006, 77007, 77008, 77009, 77010, 77011, 77012, 77013, 77014, 77015, 77016, 77017, 77018, 77019, 77020, 77021, 77022, 77023, 77024, 77025, 77026, 77027, 77028, 77029, 77030, 77031, 77032, 77033, 77034, 77035, 77036, 77037, 77038, 77039, 77040, 77041, 77042, 77043, 77044, 77045, 77046, 77047, 77048, 77049, 77050, 77051, 77052, 77053, 77054, 77055, 77056, 77057, 77058, 77059, 77060, 77061, 77062, 77063, 77064, 77065, 77066, 77067, 77068, 77069, 77070, 77071, 77072, 77073, 77074, 77075, 77076, 77077, 77078, 77079, 77080, 77081, 77082, 77083, 77084, 77085, 77086, 77087, 77088, 77089, 77090, 77091, 77092, 77093, 77094, 77095, 77096, 77097, 77098, 77099, 77201, 77202, 77203, 77204, 77205, 77206, 77207, 77208, 77209, 77210, 77212, 77213, 77215, 77216, 77217, 77218, 77219, 77220, 77221, 77222, 77223, 77224, 77225, 77226, 77227, 77228, 77229, 77230, 77231, 77233, 77234, 77235, 77236, 77237, 77238, 77240, 77241, 77242, 77243, 77244, 77245, 77248, 77249, 77251, 77252, 77253, 77254, 77255, 77256, 77257, 77258, 77259, 77261, 77262, 77263, 77265, 77266, 77267, 77268, 77269, 77270, 77271, 77272, 77273, 77274, 77275, 77277, 77279, 77280, 77281, 77282, 77284, 77287, 77288, 77289, 77290, 77291, 77292, 77293, 77297, 77298, 77299, 77315, 77325, 77336, 77337, 77338, 77339, 77345, 77346, 77347, 77355, 77362, 77365, 77373, 77375, 77377, 77379, 77380, 77383, 77386, 77387, 77388, 77389, 77391, 77393, 77396, 77401, 77402, 77406, 77410, 77411, 77413, 77429, 77433, 77447, 77449, 77450, 77459, 77461, 77469, 77471, 77477, 77478, 77479, 77481, 77487, 77489, 77491, 77492, 77493, 77494, 77496, 77497, 77501, 77502, 77503, 77504, 77505, 77506, 77507, 77508, 77510, 77511, 77512, 77517, 77518, 77520, 77521, 77522, 77530, 77532, 77536, 77539, 77545, 77546, 77547, 77549, 77562, 77563, 77565, 77568, 77571, 77572, 77573, 77574, 77578, 77581, 77583, 77584, 77586, 77587, 77588, 77590, 77591, 77592, 77598 houston dmv drivers license at https://www.dps.texas.gov/administration/driver_licensing_control/rolodex/search.asp